Meet Florent!
Our Friendly, French
Tech Lead!
?? ? ??
Flo, Florent, Frenchie, Baguette…. (ok, maybe not Frenchie or Baguette, but we had to throw some French stereotypes in there. ?) Florent is our Friendly, French Tech Lead. When he's not kicking it on the Playground (see what I did there ?), or watching Battle Star Galactica, he's busy being Parse's Most Prolific User. (Read Parse Interview here.) You see, Florent is a really cool dude. He's never afraid to ask those daunting questions and he's an awesome team player. (Cool fact: He even won the AmpMe Team Player of the Month Award in October. ?) Although Florent is outspoken (and loud…sometimes), he's very attentive to those around him and always knows how to keep the team driven and motivated. He's truly a great leader; respected by the entire team for his unquestionable dedication and hard work. Even when things get tough and he pulls his sleeves up (literally) to work around the clock. He knows how to shape the team up and ship the product out! ?? Did we mention that he's on a personal mission to make Parse great again? (Just making sure. You know… in case you hadn't noticed that hat he wears everyday! See photo in header. ??)
It's obvious that Florent has a passion for tech, but did you know that he's just as passionate about music? As a matter of act, when he was younger, he'd go to music festivals all the time! He even went to Sziget in Budapest, where he attended over 600 shows in 5 days. -Oh, and he really enjoyed going to Meuh Folle, the festival from our engineering school. So, when Florent joined AmpMe back in March, it was a natural fit. He lives and breathes music. You can actually hear Florent coming from afar because he's always got music blaring from his headphones. It's actually surprising that he isn't def yet! ? Enough with the nonsense…
? You take the floor, Florent. Why AmpMe?
I met Ali a while ago, back in September of last year at a Hackathon. It was obvious that he was pitching AmpMe to me, really hard. (Anybody who knows Ali, knows he can hustle. ?) At the time, I was already jumping into another startup called Uberchord, in Berlin. So, I politely declined. But the guy never stops. While in Berlin, I received a call from Martin-Luc, and we had a great chat about this new startup he was building. Then back March, while I was in Montreal, Ali was still at SXSW and noticed that I had just left Uberchord. Sure enough, a few days later I was meeting with him, AP, Keith, and ultimately Martin-Luc. Everything went very very fast, thanks to Ali and his legendary hustle. ??
I've had awesome startup experiences in the past. I've pretty much only worked in the startup scene since I graduated. When I met everyone from the AmpMe team, I was blown away and really humbled that they wanted me to join them, which made the decision very easy.
The team is what makes AmpMe awesome and different. Everyone is so passionate and it makes the day job very fun and interesting! ?
What is it like to be Tech Lead at AmpMe? What tasks and/or challenges do you face on a daily basis?
It is a lot of fun; that's the most important factor to consider. You need to have some fun when you're putting your heart and soul into a company, otherwise you can't handle the pressure. Besides that it's also interesting; most of my job involves making sure that everyone is set to deliver 100% and more all the time. I try to always be there for the team when there are questions and concerns so that we can kick new features out of the door as fast as possible while maintaining a great quality in the code base, best practices as well as a great team spirit.
What inspires you most about your work as a Tech Lead?
What I love is that it's more about the people than the code or the technology. Yes, the tech is crucial, but everyone on the tech team is more than qualified and all are amazing developers. But AmpMe is not just the sum of the amazing devs, it's that we all work as a team. As a Tech Lead, I like to think my mission is to elevate the team as high as possible, making impossible feats look easy. ??
How do you feel music impacts the world?
I've listened and played music ever since I'm a kid. My parents at the time had a lot of records ranging from Genesis, Pink Floyd and Supertramp, basically the epitome of the 70's/80's prog rock era. Adolescence was a weird time, when I listened to punk rock and black metal. I'm also a big fan of jazz. (I'll admit that Robert Glasper is on repeat these days. ?) Younger, I would dig Cannibal Corpse, but now I focus on more "calm" acts like Meshuggah, Porcupine Tree or Opeth, to name a few. I recall those listening sessions where we would play entire records or discographies for days and nights. We'd sit there just listening to the subtleties of each song (yes, black metal can be subtle). Music was often a bonding link between friends and still is. 
What have you learned about yourself from working at AmpMe?
I am a very opinionated person and have learned that it can easily piss off my teammates and spark some heated debates. I'm working on it now. ? #WIP
Pretend you're our CEO. What's the one accomplishment would you proudly boast about?
Without a doubt, I would definitely be proud about assembling this kick ass team. Nothing is impossible for us. 
What are some of your fave AmpMe perks?
I'm not really a perks or swag kinda guy, but I do get to wear this awesome AmpMe cap and that's enough for me. But yeah, I have to say that having an awesome CEO, brand new Macbook, cool headsets, screens, fun night outs and a great corporate culture (all for free when you join), is pretty sweet. ?
What advice would you have for anyone looking to work at AmpMe?
Be yourself, no need to pretend you're anybody else.
What's the toughest thing about working at AmpMe?
Probably the 30 minutes of bus ride every days.
What is your favourite kind of cookie? Brownies with bacon. (Recipe here: Maple Bacon Brownies)
Biggest pet peeve: Pop songs and pretty much the whole Billboard 200.
Words to live by: Fake it till you make it.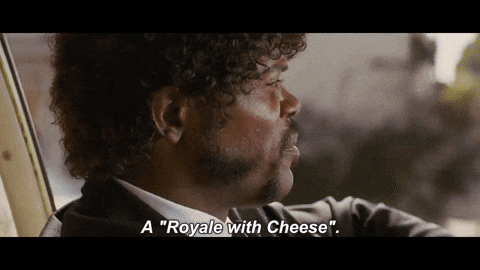 Open your phone up. What's the last song you listened to? Anesthetize by Porcupine Tree
If you could go to any concert, what would it be?
I'd need to go back in time and to Berlin see the original The Wall from 1990.
If there was a fire in the AmpMe office, what 3 items would you save and bring to safety?
Coffee mug, laptop and headset. I usually don't need anything else to keep kicking ass when the world is on fire.
Craziest thing you've ever done: I'll keep that for myself (don't want my mother to freak out). ?
Who was your favourite Ninja Turtle? That would be Rafaello.
Favorite Disney movie? Star Wars Ep. 7. It's Disney, right?
How many donuts are you capable of eating in one sitting? 7, not one more. ??
Who was your favourite Spice Girl? I dressed as Mel B. once… ?
How many hours after getting paid does it take you to spend your entire pay cheque?
Now that I have 3 kids, I gotta be responsible right?! ?
As you can see, Florent is funny, compassionate, and simply awesome to work with! Everyone on the team appreciates his work and he brings plenty of very cool ideas to the table. Let's just say that we're pretty glad that Ali hustled as hard as he did. Imagine what we would have missed out on?! ? AmpMe without Florent is just not an option. Check out what the team has to say:
"Florent is sincerely interested in what you are doing and what you have to say; great person to ask for any kind of advice. He is open and receptive to people in general. He is always looking forward to helping, has a warm personality and listens to great tunes! Another thing that I admire about Florent, is his focus, organization and extraordinary attention towards solving problems. Lots of respect and the best of luck to the Team Player, Florent!" – Ilie D.
"Florent is a rockstar, literally… We met at a hackathon a while back ago and every since then I knew that I wanted to work with him! He's super creative and likes to dig in deep to solve difficult problems. Proud to be working along side him!" – Ali K.
"I've worked with Flo for a long time. Apart from being an awesome guy to have a beer with, he's one of the most passionate, inspiring developers I've ever worked with. Flo consistently brings a critical eye to our product and challenges every decision made so that we can make it better, together. -Oh, and the dude makes a fantastic BBQ. If you haven't experienced it, you need to.??" – Josh C.
"Noisy, passionate, highly competent, and lots of fun!" – Mitch R.
"Giving a shit. Striving for more. More passion. More excellence. When I think of Florent, this is what I see. Doing it all with Champagne, style and grace. Florent and I have crossed paths many times in the past few years. He is a definitive rock star. Super pumped to be working together." – Vaughn D.
"In my opinion the best thing about Florent is not only that you can learn something new and really interesting from him every day, but also that he always encourages you to improve and do the right thing. I am really lucky that Florent is usually the one who reviews my code — I become better as a developer and learn so much faster thanks to him! ☺️" – Krill K.
"Florent is "un cr*ss de français" but he is a good developer, good drinker and a really good guy to spend time with. I really like him and I'm really glad to be working with him." – Keith B.
"What to say about Flo, our full-stack/parse/open source/iOS/node/mongo/CI/… Dev Lead. ? He is a really active and passionate person, with a lot of experience and knowledge. You always learn something new everyday working with him. He also likes to talk… just a bit. ? When he is not in the office, everyone can totally feel it. ? But, he is always there if you need help, feel like grabbing a drink or just kicking back to have some fun. He has a natural way of speaking about anything, with everyone. And we all love your music Flo. ? Let's make some rocket science!!" – Marc G.
"Florent… Where to begin? What first struck me about Florent was his natural ability to lead the ever-growing AmpMe team. He's got a knack for expressing complex concepts to the team and has an eye for  detail, whether it relates to product, marketing, design, UX strategy, or code. He's most definitely a multi-tasker who's always available to help anyone on the team. You can just tell that he's got his whole heart into it and that he truly wants the team to succeed. He's confident, knowledgeable, and a real team player. Florent, you rock! ? Mad props and much respect. I've learned a lot from you and it's truly been an honour to work by your side. ??" – Samantha B.
"Everything is awesome with Florent. ? Although he may sometimes be a bit loud, it's great to work with Flo. He has so much tech knowledge, it's incredible. It's great to be able to grab a beer and chat about all things technology, as well as business." – Philippe D.
Comments
comments