Meet Keith 
a.k.a our super awesome AmpMe Project Manager! 
 ? ? ? a.k.a  AmpMe's "real" O.G. ? ? ?
If you're into punk music, tech and/or entrepreneurship, chances are you've bumped into Keith somewhere down the line. Not only has he been with AmpMe since its early beginnings, in July of 2015, but in his free time he is heavily involved in the local tech/startup scene and busy indulging in life's simple pleasures. You know; the small things, like enjoying the outdoors, tasting delicious Indian food and (real) poutine, appreciating the color blue, and secretly hoping that he can, one day, have Professor X's amazing telepathy skills. (All this; when he's not busy watching Stranger Things on Netflix.) Okay… Enough with the introduction. You can just stalk his Facebook page if you want more information. ?? (Just sayin'…)
?  Over to you, Keith. Let's hear about your AmpMe story:
It all started in July of 2015, when Albert Dang-Vu, CEO of Mirego, told me that Martin-Luc Archambault, his friend, was looking for a "tech guy" to help him transform an application that his in-house team was beginning to develop as a startup. After briefing me with the details, he nudged me and told me that he thought I'd be a great candidate given my previous experience in the startup scene with Poly9, AptGeek, FounderFuel and RevealAd.
At the time, I wasn't even looking for a job. I was working hard with Jeff Doucet, to co-found J'entreprends Québec, a NPO that focuses on bringing entrepreneurs, from all walks of life, together, to build an active community.
Needless to say, I was still curious to hear more about the music-based application, so I asked Albert to set a meeting up. Before I knew it, I was being interviewed by Albert and Martin-Luc, via Google Hangout. (Get this; both of them were chatting with me from the comfort of their Teslas.) They told me about the app, then asked me to scope it out myself and send an email their way detailing my impressions of AmpMe and whether or not I'd be interested in joining them on this new AmpMe adventure.
After playing around with app, for only a few minutes, I was hooked with the idea. I was impressed  by the synchronization process that used two mobile devices to create a loud speaker. I saw the technological challenge involved in the project and loved that it was purposeful in changing the way we use our phones to listen to music.
No less than 30 minutes later, I sent a detailed email explaining that I was interested and included 5 ideas that would help develop the concept. 10 minutes later I was introduced to Julien Gobeil Simard, Product Owner at Mirego. He then interviewed me the following Tuesday and that's when I discovered that I had gotten the job. It was a big move to set J'entreprends Québec aside for AmpMe, but today, I'm glad to have been a part of building this amazing technology and kick-ass team, from the ground up!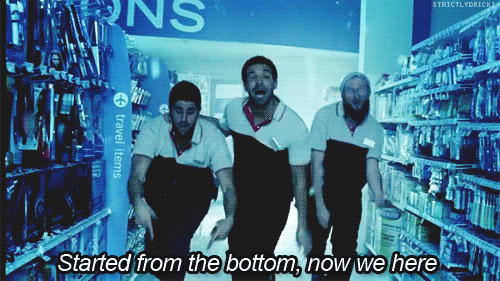 Let's dig a little deeper into things now. This is where sh*t gets real, folks!
1. What's it like to work with a Dragon investor, like Martin-Luc Archambault?
In my eyes, the fact that he's a Dragon or investor doesn't change anything. I work with him because he's an entrepreneur with a game-changing startup mentality that combines a lot of technological challenges that tie into the music realm. Based on my experience, I know that I can help him accomplish his goals. I really appreciate that he trusts the members on his team. He trusts our judgement, he trusts our trials, and trusts that we're going to make it happen. He doesn't second-guess us because he knows that we'll make it work.
2. What have you learned from working at AmpMe? 
It's important to surround yourself with a solid support network when you're building a startup from the ground up. Your teammates, friends, and business contacts, are vital if you're looking to succeed. As a matter of fact, Martin-Luc wrote an awesome article about this in Entrepreneur magazine: "How to Keep it Real While Building Your Network"
3. What's the coolest thing about working at AmpMe?
The team spirit is by far the coolest thing about working at AmpMe. We've chosen grade A players to join our ranks and it shows. Everyone is an entrepreneur at heart and each team member is wholeheartedly invested in wanting to make AmpMe a big SUCCESS! ?
4. What's the toughest thing about working at AmpMe? 
The hard part about working at a startup like AmpMe, is focusing on one thing only. Everything is interesting and I'm always looking to learn more. 
5. What's one of your favorite AmpMe moments or memories?
I can't hone in on one specific moment, but I absolutely love the fact that I work days, nights and even weekends, with a team of passionate people who are all striving to achieve the same thing, which is to bring the world we live in, to another level! I love that!
6. What words do you live by?    "No pain, No gain!" and "Just do it!"

As you can see, we're really lucky to have Keith at AmpMe. He's passionate about his work, but also very compassionate towards his fellow teammates. When somebody needs help, he's always ready to jump in;  he's the quintessential team player. He's analytical and attentive to detail, both in his work and in his actions. -Oh, and don't tell this guy that something is impossible because he'll probably snap back and say, "Nothing is impossible, just do it!"
Now, enough with the schmoozing. ? Let's get serious. Here's what his teammates (REALLY) think of him:
✌?  ??  ??  ??
"This past year, Keith and I have worked in close collaboration and the first thing that I remarked when I started working with him, was his impeccable work ethic. He is dedicated,  always available, ready to listen or help, regardless of the time of day. I've also noticed, that he has an uncanny ability of dealing with stress, even when things get really tough. He's calm, creative, and he always has great ideas to share."  – Marc Mercier
"Keith is the definition of a startup. He's a "do whatever it takes" kind of guy; always more than happy to help anyone out with anything – at any time. He's driven and always looking to broaden his knowledge and sharpen his skills." – Martin-Luc Archambault
"Keith has eagle eyes. A perfect liaison between vision, design, and dev. We wouldn't be able to run without him!" – Josh Camire
"He's always cool under pressure and quick with a witty joke." – Philippe Delorme
"Keith is a really hard worker. He's willing to fix everything ASAP! He works 23h/24h; asking me to fix bugs… at 7 am, 12 pm, 10 pm, and even when I'm sleeping. ? Although he likes to work hard, he's also a party animal! (And, he eats like an animal!) ? But, the most important thing I appreciate is his laid-back response to everything, which is, "ok cool."" – Michael Mimeault
"Keith is a total team player. ?" – Riana Terreri
"In the short time that I've worked with Keith, I've discovered an amazing person. His impressive interdisciplinary skillset, paired with his "go-getter" attitude, make him a great team leader. He's always available, ready to help, and driven by passion. It's truly a pleasure to work with Keith." – Samantha Bilodeau
"Keith always gets down to business. He makes things happen and gets sh*t done!" – Ali Khadjavi
"I appreciate Keith's responsiveness and dedication to the team. There's nothing that he wouldn't do to move AmpMe forward, and you can feel it in his interactions with everyone. He brings a smile every day!" – Alain Wong
"Keith is a very dedicated person, he's got Ampme in his heart and we all feel it. He's so dedicated that he spends nights testing AmpMe to get bugs out of the way." – André-Philippe Paquet
"Keith is probably one of the few guys I know that requires absolutely no sleep while remaining on top of everything. He is a machine when it comes to managing one of the most demanding applications. He does not accept anything less than perfect, which although can make us sweat at times, pays off immensely for all of us in the end. You will never see him without a smile on his face and is the first one to crack a joke. I wonder sometimes where he finds to the time to do so, but I guess it all just comes naturally for him." – Ryan McIlwaine
"What to say about KK (Keith the King)? ? He's really passionate about AmpMe and is a dedicated person. His cheerful attitude makes working with him fun." – Marc Gomez
"Keith is always there when you need him and will go out of his way to help you! ??" – Mahdi Khadjavi
Comments
comments